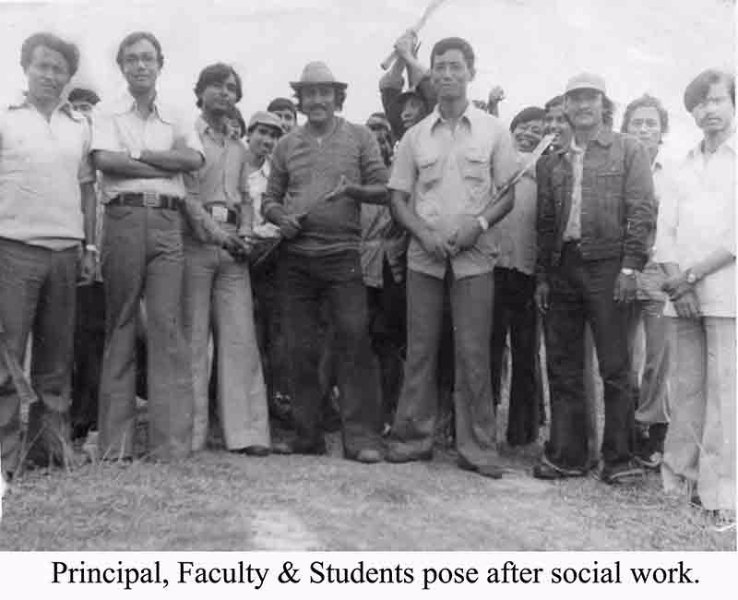 A MILESTONE
DIMAPUR GOVERNMENT COLLEGE GOLDEN JUBILEE
(1966 – 2016)
Dimapur Government College, a co-educational institute established on 25th July 1966 as Dimapur College by a few concerned citizens is completing its five long decades of imparting Higher Education. A humble beginning with an enrollment of 83 (Arts) students and 7 faculty members, the College is today proud to have 987 students, 50 faculty members, and 55 non-teaching staff members with Arts, Commerce, and Diploma in Hospitality and Tourism Management programmes.
The journey of the college has faced many ups and downs, but the active cooperation of Students, Teachers, Non-teaching staff, Parents, Alumni, and the community progressed steadily over the years.
The College was taken over by the Government of Nagaland on 1st February 1989 and eventually renamed Dimapur Government College. It is affiliated with Nagaland University since 1994, prior to which it was under Gauhati University and North-Eastern Hill University. The College is recognized under sections 2(f)and 12(B) of the UGC Act, 1956.
The College is Accredited a 'B' grade by NAAC on 15.11.2015
The College has decided to celebrate the Golden Jubilee in a grand befitting manner to let it be the biggest and the most remembered occasion of the season. The special occasion will be held in Oct. 2016. Various committees are working hard to prepare for the celebration.
The committee is seeking contributions of old photos, reports from alumni, and retired teaching and non-teaching staff of the college.
If you have any that might be useful for the golden jubilee souvenir magazine kindly contact the numbers given below:
Khrieo Rutsa,
Convenor,
DGC Golden Jubilee Planning Committee
9436063166
Sedevino,
Convenor,
DGC Alumni Committee
9436004268